info   ABOUT THE WIKI

Welcome to the Bebe Rexha Wiki. The website is dedicated to the American singer, songwriter. Bebe Rexha. The Bebe Rexha Wikia is a 100% free website. Feel free to discover, share, and add your knowledge! We currently have 194 articles running.
Note that the creators of this wiki are not Bebe Rexha, nor do we have any connections to her, we are only fans. If you want to enter Bebe Rexha's official website, click here.
question   WHO IS BEBE REXHA?


Bleta Rexha (Albanian pronunciation: [ˈblɛta ˈɾɛdʒa]; born August 30, 1989), known professionally as Bebe Rexha (/ˈbiːbi ˈrɛksə/ BEE-bee REK-sə), is an American singer and songwriter. After signing with Warner Bros. Records in 2013, Rexha received songwriting credits on Eminem's single "The Monster" (which later received the Grammy Award for Best Rap/Sung Performance) and has also contributed songwriting to songs recorded by Shinee, Selena Gomez, and Nick Jonas. Rexha released her debut extended play in 2015, I Don't Wanna Grow Up, which saw the moderate commercial success of the singles "I Can't Stop Drinking About You" and "I'm Gonna Show You Crazy".
Rexha released two additional extended plays in 2017, All Your Fault: Pt. 1 and All Your Fault: Pt. 2, which again saw the moderate success of the singles "I Got You" and "The Way I Are (Dance with Somebody)". Rexha has also seen success with several collaborations including "Hey Mama" with David Guetta, Nicki Minaj and Afrojack, "Me, Myself & I" with G-Eazy, "In the Name of Love" with Martin Garrix, and "Meant to Be" with Florida Georgia Line, the latter of which had large success as a country crossover single, peaking at number two on the Billboard Hot 100 chart in the United States. Rexha's debut studio album, Expectations (2018), reached number 13 on the Billboard 200 chart in the United States and saw the success of its lead single, "I'm a Mess", and brought Rexha two nominations for Best New Artist and Best Country Duo/Group Performance at the 61st Grammy Awards.
READ MORE
question   DID YOU KNOW THAT...


Refresh for more trivia
pin   FEATURED ARTICLE: Better Mistakes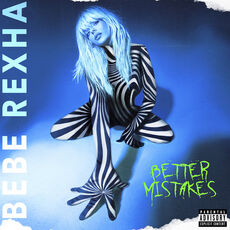 Better Mistakes is the second studio album by American singer-songwriter Bebe Rexha, released on May 7, 2021, by Warner Records. It serves as the follow-up to her debut studio album, Expectations (2018), and contains guest features from Travis Barker, Ty Dolla Sign, Trevor Daniel, Lil Uzi Vert, Doja Cat, Pink Sweats, Lunay and Rick Ross.


READ MORE
twitter   FOLLOW BEBE
Make sure to follow Bebe on her Twitter account!
fandom   HELP


Read the policy

  

Affiliated communities